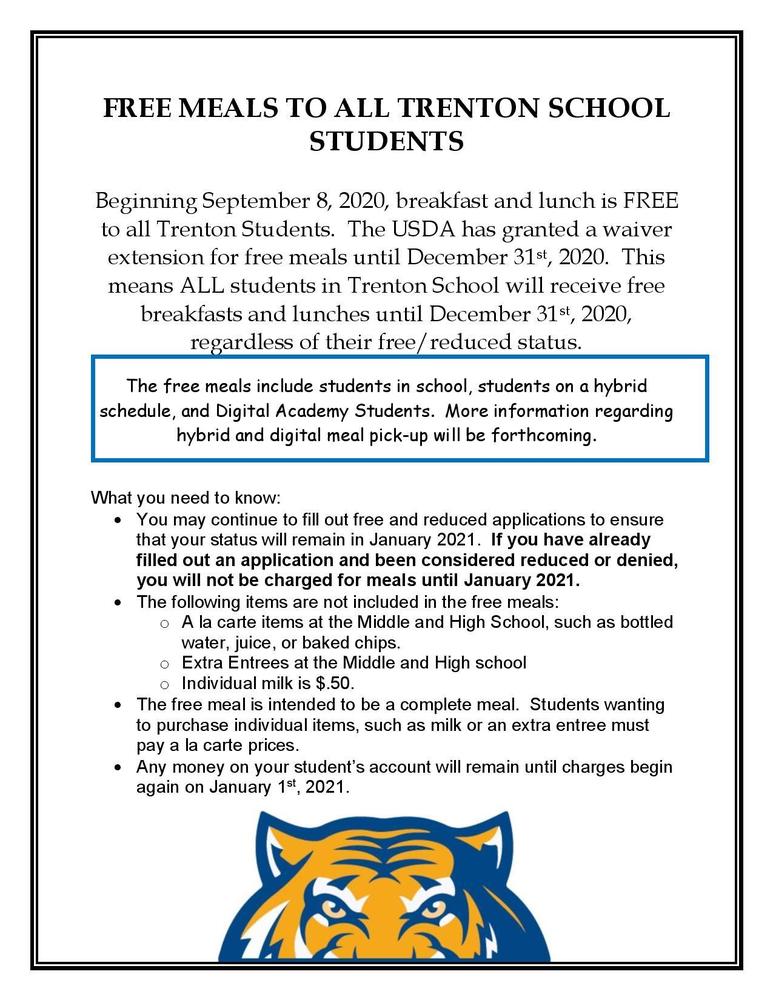 Free Meal Flyer
Trenton School
Thursday, September 03, 2020
FREE MEALS TO ALL TRENTON SCHOOL STUDENTS
Beginning September 8, 2020, breakfast and lunch is FREE to all Trenton Students. The USDA has granted a waiver extension for free meals until December 31st, 2020. This means ALL students in Trenton School will receive free breakfasts and lunches until December 31st, 2020, regardless of their free/reduced status.
The free meals include students in school, students on a hybrid schedule, and Digital Academy Students. More information regarding hybrid and digital meal pick-up will be forthcoming.
What you need to know:
You may continue to fill out free and reduced applications to ensure that your status will remain in January 2021. If you have already filled out an application and been considered reduced or denied, you will not be charged for meals until January 2021.
The following items are not included in the free meals:

A la carte items at the Middle and High School, such as bottled water, juice, or baked chips.
Extra Entrees at the Middle and High school
Individual milk is $.50.
The free meal is intended to be a complete meal. Students wanting to purchase individual items, such as milk or an extra entree must pay a la carte prices.
Any money on your student's account will remain until charges begin again on January 1st, 2021.